Hi Vis Socks
For the safety conscious, thick bamboo hi vis socks made from soft bamboo fibre, are the only choice!
These hi vis socks share the same awesome features as our extra thick bamboo work socks … just in bright hi vis!
The natural anti-bacterial properties of bamboo fibre means you may even wear these hi-visibility socks for up to a week* straight without washing.
Odour is reduced compared to normal synthetic socks due to the anti-bacterial bamboo material. Bamboo material keeps feet cool and wicks moisture away, keeping your feet dry and comfortable all day long.
What Hi Vis Colour Do You Wear?
Our hi vis socks come in 3 ultra bright, ultra safe, ultra hi-vis colours that will stand out no matter where you work.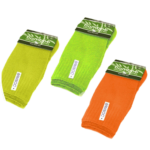 * This may vary depending on how hard you are on your socks, the environments you are working in or how smelly your feet are, however, we have a number of customers who have reported back to us that they went a full 7 days before they felt their socks needed washing.